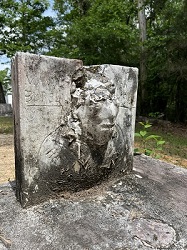 Mount Nebo Baptist Church Cemetery is a nationally recognized historical place near the Carlton community in Clarke County, Alabama. This cemetery is the location for unique folk-art tombstones crafted by the African American inventor and artist Issac "Ike" Nettles, Sr. Molds for the death masks were made from impressions left in a box of sand by a living subject. Mr. Nettles then used a unique mixture of concrete and other materials to make images from the molds of living people's faces for their gravestones.
Mr. Nettles created four death mask gravestones for people buried in Mt. Nebo Cemetery between 1933 and 1946. Three of the four death mask gravestones were of Mr. Nettle's family members, his mother Celina (d. 1933), his aunt Ezella "Angel" Nettles, and the faces of his three daughters, Pauline, Marie, and Clara. His daughters' death masks adorn his wife's gravestone, Korean Nettles (d. 1933). The fourth mask was of Mr. Manul Burrell (d. 1946), a local man in the Carlton community. Mr. Burrell was very impressed with Mr. Nettle's previous work and commissioned him to create a death mask for his gravestone.
The death mask gravestones of Mt. Nebo Cemetery have been recognized as unique and significant by folklorists in the state. Joey Brackner, a folklife program manager for the Alabama State Council in the Arts, remarked that the stones at Mt. Nebo may be unique in the southeast. They were placed on a list of Clarke County's most endangered historic places in 1996. Brackner noted that the fact that Nettles' creations are exact images departs from other forms of sculpture in funerary art. Another African American artist, Boosie Jackson (1881-1966) of Bullock County, made sculpted cement grave markers, although it is unknown if he ever created exact representations of deceased persons as Nettles did. Unfortunately, the Mt. Nebo death mask gravestones have suffered the ravages of weather on concrete and probably vandalism. The preservation of the stones is a difficult proposition because of their materials and the need to leave them intact in the cemetery.
Browse the Mt. Nebo Death Masks Collections: